Macdonald 2nd In Australian Title
Tuesday April 24, 2012
Nathan Macdonald and the Macdonald Racing team recently spent a couple weeks down south in Victoria racing in two of the biggest events of the season for Modified Production Sedans, with firstly the Australian Championship at Mildura's 'Timmis Speedway' and the 'Morris Finance Ltd' Victorian Open at Alexandra Speedway and they did a great job coming away with the Aussie # 2 plate from Mildura whilst at the 'Open' the going was a little tougher for the Toowoomba racers.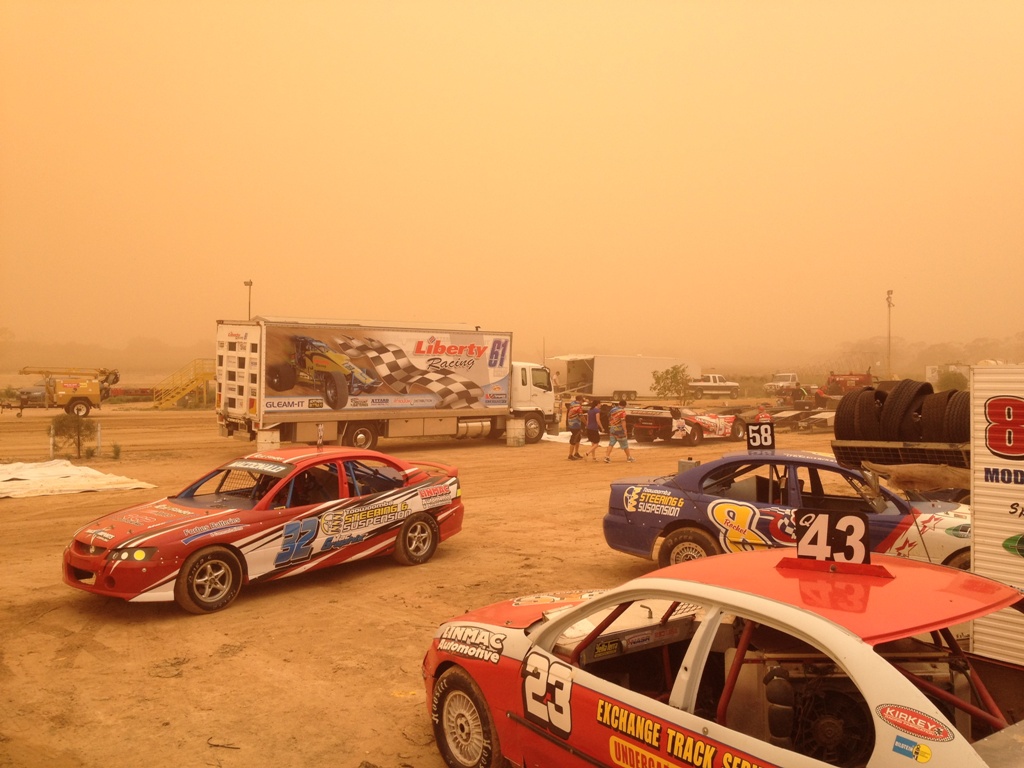 Racing began on April the 5th with practice at Mildura where the opportunity was taken to try to ensure the right differential gearing was in place and the team who had never raced at the fast paced banked venue before did a fantastic job to set the seventh fastest time on night, however Macdonald himself was not happy with the gearing and planned to change that before race night on Good Friday.
Having changed the gearing to lower the revs per minute a little it seemed the team were on track and began heat one from second place and finished in first. The race frustratingly took five restarts after pole position competitors kept jumping starts. Eventually Nick Hill was up alongside Macdonald when the race got started and Macdonald won from Shane Langton and Greg Worling.
The track was starting to grip up which made the racing very fast. In heat two when Macdonald started tenth he had to avoid a early race incident involving Mark Carlin and Robbie Faux and moved to third place. A move to take second position from South Australian Terry Brown was thwarted when Brown defensively covered his line and this allowed Faux back past Macdonald with West Australian Mick Johnson winning from Faux, Brown and Macdonald. Macdonald knew he had fading brakes towards the end of the ten lap heat and in-between races a brake calliper was replaced on the left front wheel.
The final heat of night one had Macdonald up in a fourth placed start that he converted into a third placed result. Looking for more side bite out of the car, the team made a sprint change and added extra weight to the back of the race car. A battle between Rodney Pammenter, Graham West, Brett Barron, Adrian Stott & Macdonald was intense and in a last ditched effort to move up some positions passed between Pammenter & Barron in the final turn to finish behind Stott & Barron again with fading brakes.
On the Saturday all teams had the day to themselves as a rest day and the crew took the car into the City of Mildura Show & Shine display. A massive turnout of locals and visitors with so much motorsport on in Mildura each & every Easter and it was a great opportunity to show off the team's car, sport and sponsors. As a extra bonus Nathan and wife Cyrisse and the car were featured on the front page of the 'Sunraysia Daily' newspaper on the Sunday in Mildura after being photographed at the show & shine.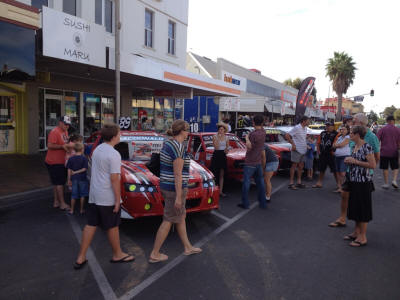 Nathan's VZ Commodore on Display in Mildura.
The last heat of the weekend on the Sunday began with Macdonald sitting sixth in points from nearly seventy competitors that were contesting the championship. Beginning in eighth place that's where the # 32 'Toowoomba Steering & Suspension' supported race driver finished.
Nathan had the car dialled in for the heat race moving his way through passing cars around the top of the race track to reach second place, however disaster hit when he ran out of tear offs and still pushing hard to get the race lead from Gavin Lorensen he pushed the VZ Commodore to hard in turn three and lopped it and went to the back of the field and finished there.
A disappointing result considering what could have been, Macdonald was furious at himself. "I was down to one tear off when I got into 2nd place behind Lorensen, I should have just held my position and banked some more good points. I have no one but myself to blame".
Such was the competition over the weekend and in the final round that the eighth place result in the final heat resulted in a drop from sixth to eleventh top qualifier when he could have easily been in the top four starters for the championship race.
With forty laps to run Nathan took a conservative approach to the start of the race, tailing Robbie Faux and Brett Baxter early on. Nathan also had to deal with a fading brake pedal again which got so bad he could not pump up the pedal anymore.
It wasn't until lap 22 when Nathan moved past Robbie Faux, Brett Baxter and Wayne Ramsdale then the race came under caution for another incident on the track, at this point Aidan Raymont, Gavin Fletcher, Todd Doyle and Terry Brown withdrew from the event with flat tyres and damage to their cars.
This incident advanced Nathan up to 3rd position behind David Smith and race leader Martin Hawson. Macdonald fell back to 4th place on lap 26 before charging back around Brett Baxter, David Smith and Martin Hawson to take the race lead for half a lap before the yellow lights were put on for an incident back in the pack.

With 12 laps to go Macdonald was put back to 2nd place (as he had not completed a full lap in the lead) behind David Smith after Martin Hawson also retired on the infield. David Smith then found a faster line up high which made it harder for Nathan to find a way past the Victorian. Mark Carlin who came from the C main also waged in on the war moving into 2nd place until he also fell victim and retired on the infield.
Nathan tried all he could getting up the inside of smith in the last few laps but it wasn't enough to make it stick. Nathan crossing the line in 2nd place behind David Smith, with Wayne Ramsdale 3rd, Peter Fraser 4th and Brett Baxter 5th.
After the race Macdonald spoke to media. "It was a tough race, the race track started to get a little rough at the end there and the track claimed quite a few cars. It was a nervous race for me being a little wary of cars in front of me as when I needed brakes for something that might happen in front of me, I knew I didn't have any. It's a great result to finish where we did and congratulations to David Smith and Wayne Ramsdale."
The following weekend after spending some time with the Mills Racing Team up on the Murray River Macdonald and crew headed to Alexandra Speedway for the Victorian Open supported by 'Morris Finance Ltd' with $5000 up for grabs for the winning driver.
Macdonald had five heats to compete in and finished fifth, second, seventh, fourth and fourth in his heats to qualify for the main race to qualify in eleventh place. A tough task lay ahead on a track known to dust up during long races.
Macdonald was able to finish in front of Max & Noel Clarke who both began in front of him at the green and finished in eighth place after passing the Clarkes and having Gavin Fletcher who qualified above him a non starter in the event.
Macdonald enjoyed some time with John & Fiona Benson, the Mills Racing Team and the winning team his mate Rodney Pammenter and crew also from Toowoomba who all stayed at the Benson Buxton hideaway. "We appreciate the hospitality of the people down here, the Mills the Bensons and everybody from their teams. It made a tough weekend enjoyable and we thank them. Well done to 'Rocket' on his win in the Victorian Open and to Brenton Mills on his third place who we shared time with. Well done to second placed Mark Carlin. Look forward to seeing a big contingent of Victorians at our Queensland title coming up and at our big events next season."
Macdonald Racing would like to thank their valued Sponsors-
Linmac Automotive
Toowoomba Steering & Suspension
Forbes Batteries & Communications
Mac Graphix
Repco Toowoomba
Trackstar Imports.com.au
RCP Machining
That Car Finder.com.au
Ash Media – Speedway Footage
Tracey-Lee Black Photography
Written by Dean Thompson
DMT Media
for Macdonald Racing
Be sure to see our latest videos at - youtube.com/macca3227
Check out our facebook page - Macdonald Racing Facebook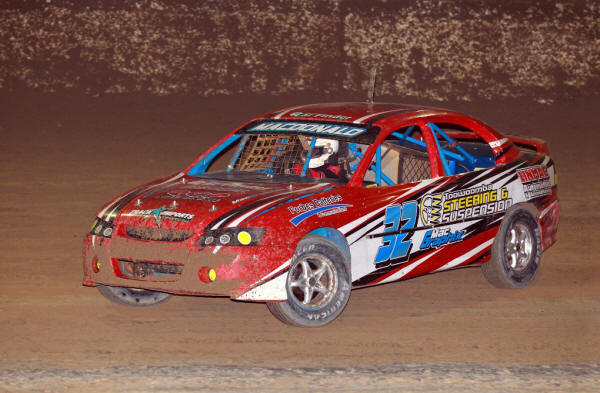 Nathan in action with the new livery during a heat race. Paris Charles Photo.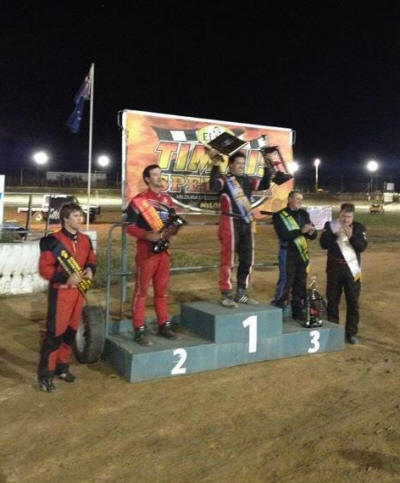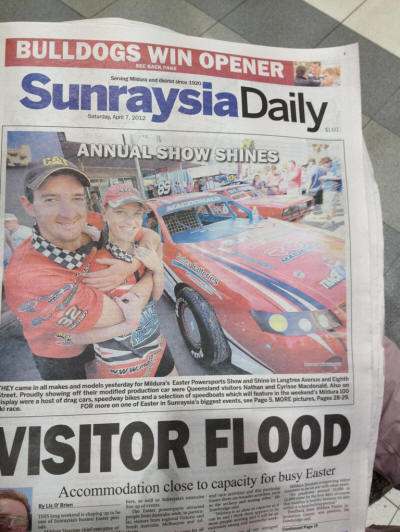 Nathan & Cyrisse with the race car on the front page of the Mildura Paper.