Strong Performances for Macdonald Racing
Monday March 5, 2012
Some recent good results for Macdonald Racing has given the team somewhat of a confidence boost after a horrible start to the season plagued by misfortune & mechanical failure.
Nathan recently won a Blue-Ribbon event in Rockhampton on the 18th February, the Beef Capital Showdown at The Showgrounds. After qualifying in position 3 for the final, Nathan moved into 2nd place and made an outside pass for the lead with a few laps remaining to move past Michael Budgen and go on to win the event pocketing $2000 in the process. Nathan was able to stop Aidan Raymont's almost unbeaten run as he came home in 2nd place with Michael Budgen 3rd. For what was actually Nathan's second only feature race finish for the season, it was a great result for the team which made the long trip home a lot easier.
The weekend just gone (03/03/12) saw the penultimate round of the Quantum Racing Industries South West All Star Series at Kingaroy Speedway. Nathan brought home two heat wins and a 5th in his heats to qualify out of position 3 for the feature race. While Shane was also competing driving the Ashley Barron owned EL Falcon, as he attempts to seal a top 3 finish in the series. Shane qualified out of position 20 for the final.
Nathan got off to a good start and stuck to the low line moving alongside Brett Baxter & Aidan Raymont. But Raymont & Baxter got the drive up high with Nathan settling into 3rd place. After running higher on the cushion Nathan was chasing the leaders when only a few laps in he suffered a driveline failure, later discovering a snapped CV shaft to be the blame. Shane was moving forward also until he retired with an overheating engine. A disappointing end to a promising result.
Shane still sits in 3rd place in the series behind Aidan Raymont & Shane Langton with one round remaining. The final round will be at Charlton Raceway this weekend where Shane will be again driving for Ashley Barron, and Nathan is hoping to be able to compete if his work arrangements work out.
A busy few weeks ahead for the team as we prepare for the Australian Title at Mildura over Easter. A totally new design for Nathan's Toowoomba Steering & Suspension Commodore will take place as well as re-sheeting Shane transporter. Nathan is still unsure if he will be able to compete at the Victorian Open, the weekend after the Australian Title due to time & funding.
If there are any interested parties looking to join the team for the rest of the season in any way, please get in contact with Nathan or Shane Macdonald.
0407965238
mac32@internode.on.net
A possible new livery for Macdonald Racing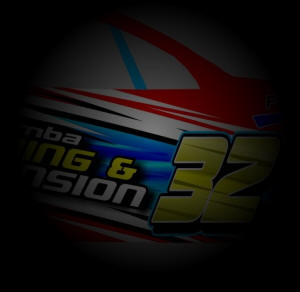 Be sure to see our latest videos at - youtube.com/macca3227
Check out our facebook page - Macdonald Racing Facebook
Macdonald Racing for the 2011/2012 season is supported by -
Toowoomba Steering and Suspension
Forbes Batteries & Communications
Linmac Automotive
Mac Graphix
Repco Toowoomba