Reflections of the Central Queensland Modified Production Title - Nathan Macdonald
Monday June 27, 2011
In what was Nathan's biggest win in his Modified Production career, Macdonald was victorious on the weekend taking out the CQ Title at Blackwater Speedway.
For something different, Nathan will recall all the action throughout the weekend, and how the win came about.
We started the 700km trip on Friday night to Blackwater, making it over half way up that night, we travelled the rest of the distance on Saturday. Arriving to a completely new track I have never laid eyes on before, the view certainly made me open them more. All of the coal mines were visible on the horizon. The track was sure to provide some fast racing with its long straights, quite a large track compared to those around the South-east corner of QLD.
I had the opportunity to do hot laps, which was great as I got an idea of what sort of line to take around the circuit. The first heat I started out of 3, and made it to the lead after Luke Hollyman ran wide. At a restart I moved up to mid track to try a different line, which didn't work as I left the door open for Luke. We made slight contact which was enough to break a tie-rod end on the steering, so I finished on the infield. Several other cars never finished either so I was credited with 4th place.
We threw some more weight in the car for the next heat as it was starting to go slick. Starting out of position three again (due to missing cars on the grid), I fell back to 4th but managed to get by Travis Hutchinson and Brett Barron to start chasing down Shannon Blackburn. I ran the low line as it seemed quicker and Shannon was sitting high. I ran side by side Blackburn for several laps before pushing ahead and taking the win. Blackburn has really shown his colours this season and is a vast improver, proving that by finishing third in the A-main.
The track conditions weren't getting any better, after consultation with Dad and Sean we threw some different shocks and springs into the car so we know what we'll need to do for the feature race. The changes made were a vast improvement, coming from 4th position I moved ahead of Beau Saunders and Brady Roberts, by this stage Adrian Stott had pulled a good lead over me. I had some clear space though to put the car where I wanted and I managed to close the gap and take the lead from Stott with a few laps remaining.
Tyre wear didn't seem to be an issue so we just used a new right rear and kept all the others the same. I qualified on the front row beside the hard charging Gavin Fletcher, and I knew he was going to be hard to beat into the first corner. I missed the start a little and Fletcher seemed to launch off the line quicker as well, so I slipped into 2nd. After a couple laps I knew I had better corner speed then Fletcher, but before I could decide what I would do next, Shannon Blackburn was on my outside, so I knew now there must some speed up there. I raced Shannon for a couple laps before I got my chance to move high. I pressured Fletcher for a few laps and eventually got a good run to get on the outside of him, going into turn 1 we made contact, but I had the drive and momentum to move into the lead.
I started to get through lapped traffic before the yellow lights come, which I didn't want as I knew Fletcher seemed quicker off the starts. I kept a tidy line and drove hard into the turn so to not give Fletcher a chance. I felt he was there for a few laps but I managed to gap myself a little from him. Another restart occurred as they said over the one-way communicator there were 5 laps remaining (of 30). I knew I just had to keep on what I was doing to hold onto the win. In the five laps I managed to gain a car length or two over Fletcher and Blackburn to win.
I would like to put a big thanks out to Dennis @ Toowoomba Steering & Suspension, Dad, Sean and Cyrisse for travelling with me and helping me to my first blue-ribbon event win.
I will be making a few improvements to the engine and going right through the car in the off season ready for Charlton Raceway in September.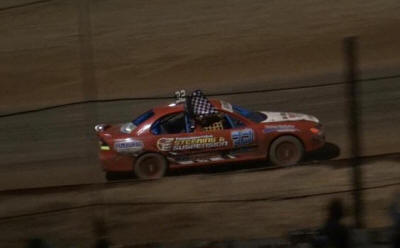 Photo courtesy of - Sue Roza Trackside DVD's
PH: 0738628224 or 0417209317 or email me at Tracksidedvds@live.com.au
www.tracksidedvds.com
Be sure to check out our in-car videos from the weekend on at www.macdonaldracing.com
Check out our facebook page - Macdonald Racing Facebook
Macdonald Racing for the 2010/2011 season is supported by -
Toowoomba Steering and Suspension
Forbes Batteries & Communications
Linmac Automotive
RCP Machining
Mac Graphix
Repco Toowoomba