MacDonald second in Australian Title again
Tuesday April 2, 2013

For the second season in a row, Nathan MacDonald has finished one spot shy of the Australian Modified Sedan Title win. Last weekend on his home track, Charlton Raceway in Toowoomba, Queensland, he finished in second place on the podium behind winner Aidan Raymont.
MacDonald's Australian Title runner–up finish brought mixed emotions: pleased with his overall performance considering that he hadn't raced since the Christmas-New Year period, and disappointed because it was a matter of so close yet so far away from Australian Title glory.
"If you had said to me that I would've achieved the finish that I did at the beginning of the weekend, I would've said that you were crazy; because I hadn't raced since the Australian Open three months, so our preparation wasn't the best," explained MacDonald, who posted the fourth fastest lap of the weekend. "To finish in second place again in an Australian Title is pleasing but disappointing at the same time, but when you consider we hadn't raced in three months, and the calibre of drivers that we were up against, it's very satisfying to achieve what we did."
With some untried modifications with the driveline and suspension made to his Qld # 32 Linmac Automotive supported VZ Holden Commodore leading into the Australian Title weekend, MacDonald had his first shake–down run on the Thursday practice. The opening night saw MacDonald finish on top of the point standings; after he had won his opening two heat races and finished third in the other. In the second heat race, he had charged his way from the back of the field; while in his third and final heat race, he was unlucky not to have won that too but a mistake in the closing stages saw him drop back to third.
The second and final night saw MacDonald finish fifth in his fourth and final heat race, and that put him out of position three for the Australian Title deciding feature race. From the drop of the green flag, he moved into second and then within the opening half–a–dozen laps, he took over the lead. For the next 25 laps, he held down the lead, only to get engaged in a battle for the lead with Aidan Raymont. Eventually, Raymont was able to take control of the lead as MacDonald fell back into the clutches of third place Gavin Lorensen. MacDonald dropped back to third, momentarily, but fought back and regained second. By the time MacDonald had got back into second, Raymont had cleared out in front and second was where MacDonald finished.
"We had a strong car all weekend, but Aidan (Raymont) had a stronger car when it mattered most in those closing laps," admitted MacDonald, who recorded the fastest lap in the feature race. "There was a long stoppage with 10 laps to go, and after the restart, the car never quite felt the same and I lost the lead. All in all, it was a fantastic weekend because we proved what we were capable of, and we'll be back next season to see if it can be a case of third time lucky."
MacDonald would like to say a special thanks to Sean Black for all of his help over the weekend, along with MacDonald's dad, Lindsay, for the endless hours he has put into the car leading up to the weekend, and the rest of the team.
Making his debut aboard a brand–new VZ Holden Commodore at the Australian Title weekend was Nathan's older brother, Shane. After 12 months away from regular competition, he showed plenty of promise but finished one spot shy of a feature race transfer spot in the B main. He also set the sixth fastest lap of the entire weekend.
This Friday and Saturday night (April 5 and 6) Nathan and Shane MacDonald will return to the track to contest the Queensland Title at South Burnett Speedway in Kingaroy.
To find out more about Nathan and Shane MacDonald, visit their website www.macdonaldracing.com.
Nathan and Shane MacDonald are proudly supported in the 2012–13 season by the following sponsors: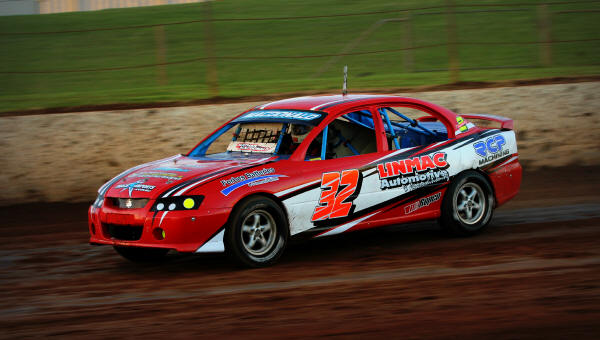 Nathan on the gas during his heat race. Photo by Tracey-Lee Black Photography.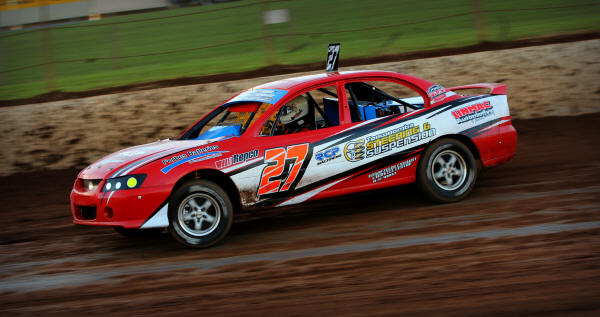 Shane in action during his first round of heats. Photo by Tracey-Lee Black Photography.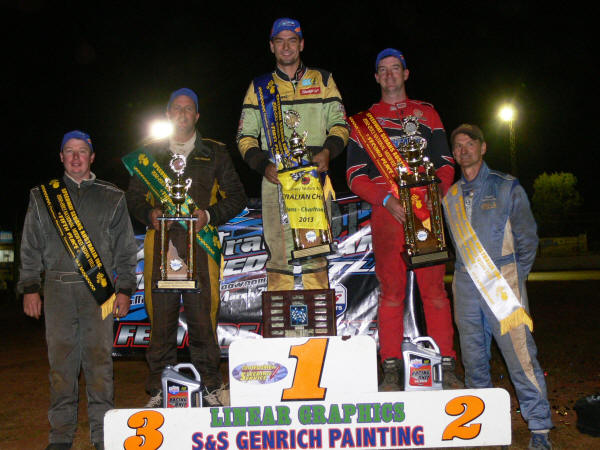 Podium from left to right - Dennis Shalcross (5th), Gavin Lorensen (3rd), Aidan Raymont (1st), Nathan Macdonald (2nd), Glenn Pagel (4th). Photo by Tracey-Lee Black Photography.

-ENDS-
Nathan and Shane MacDonald media enquiries: Daniel Powell from Redline Media
Mobile: 0432 126 210
Email: daniel@redlinemedia.com.au
Website: www.redlinemedia.com.au